If someone mentions an IEM brand that focuses on Japanese anime style artwork for marketing around this time, Moondrop would be the first to appear in my mind. After their early reputation of making earbuds, their IEM line-up has also received a significant amount of positive feedback for their sound quality. Personally, I have listened to the Moondrop KXXS and it has been one of my solid recommendations in the sub-200$ category to date.
I have been following the development of the Moondrop Starfield for a while, from the days when Moondrop posted a picture which seemed to be a KXXS shell with some fancy coating to the product announcement. Upon its release, the Starfield seems to be a budget alternative for the KXXS, hence my expectation was somewhat high considering Moondrop's past product records. Let's see if the Starfield can meet that expectation.
Before going into the post, if you are new, please read this before having any comments regarding my writing or point of view‌.
---
Information:
The Moondrop Starfield was kindly provided by Hifigo in exchange for my honest review of the product
Build and Accessories: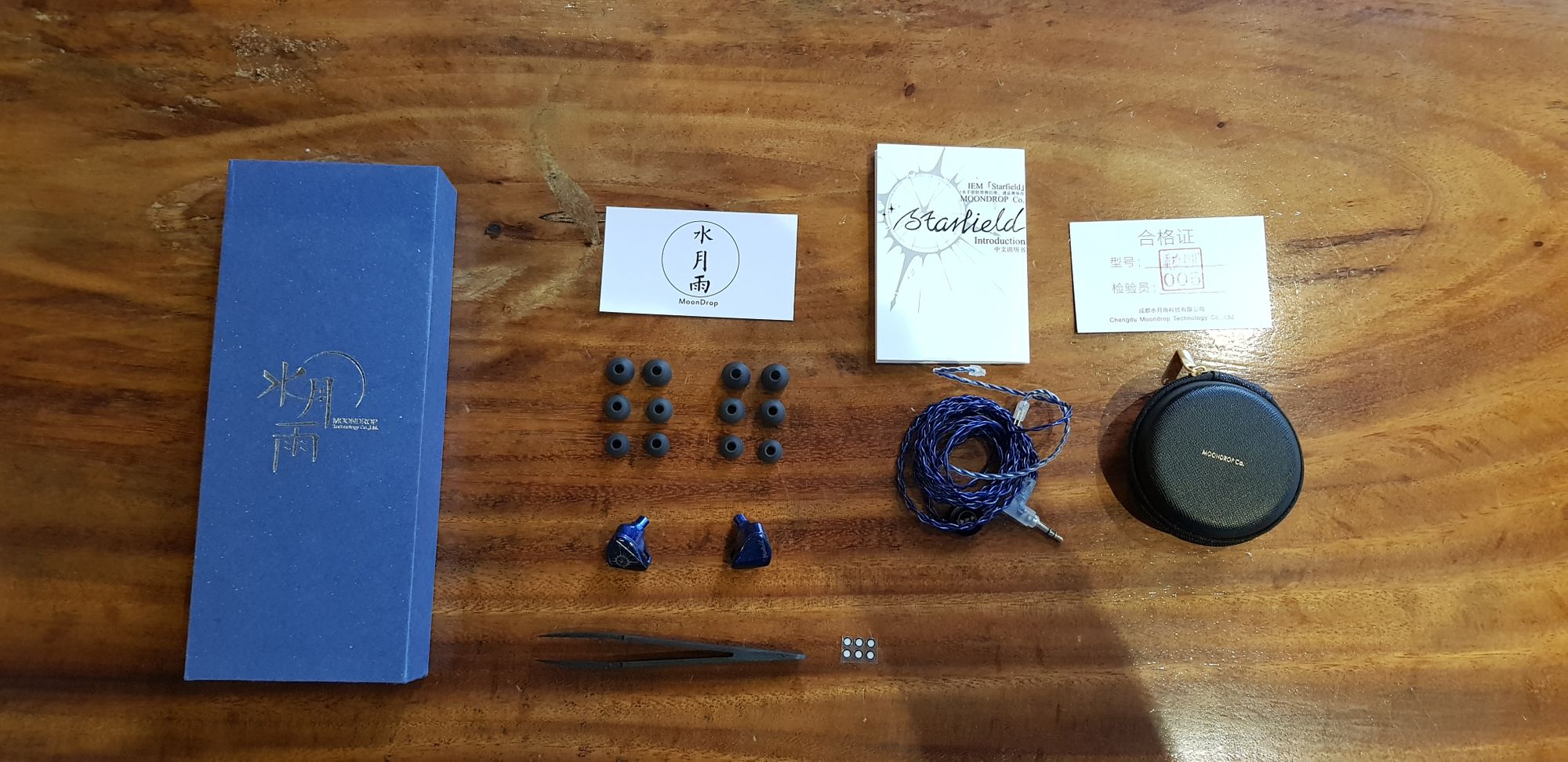 6 pairs of silicon ear tips (2 sets, each set consists of S/M/L size)
Unbalanced 3.5mm 2-pin cable
Storage case
Tweezers
3 pairs of replacement filters
Product instruction paper and company information cards
The IEM itself
The Starfield seems to provide more than enough necessities for the customer by including 2 sets of tips and replacement filters. Other than that, you have a rounded case that is small but enough to fit the IEM into. The stock cable has a L-shaped jack on one end and has good strain relief on each 2-pin jack. It also has a metal Y-splitter with the brand name on it. While this cable isn't one of my favorites, it looks durable and its color fits well with the "Starfield" theme.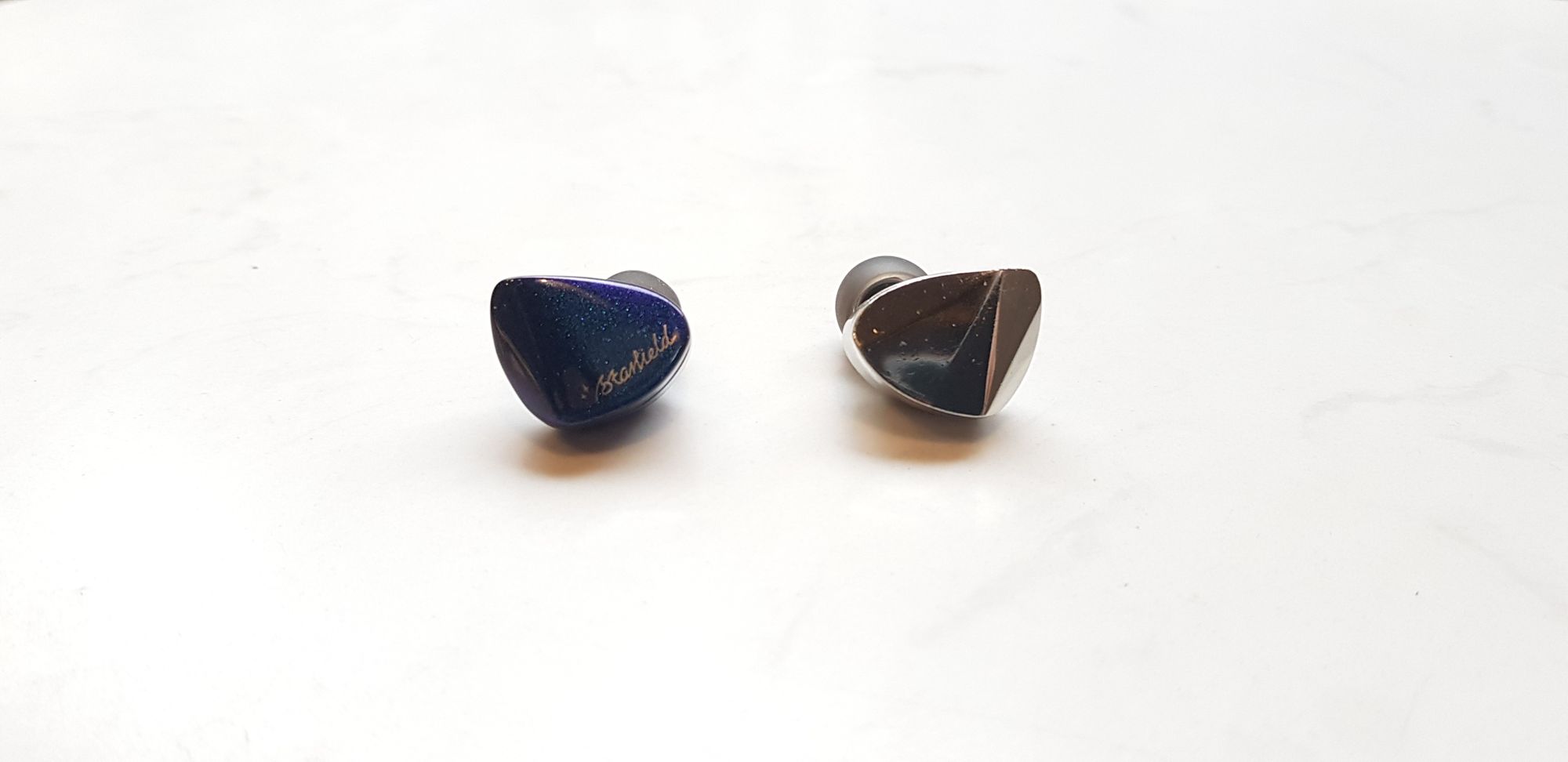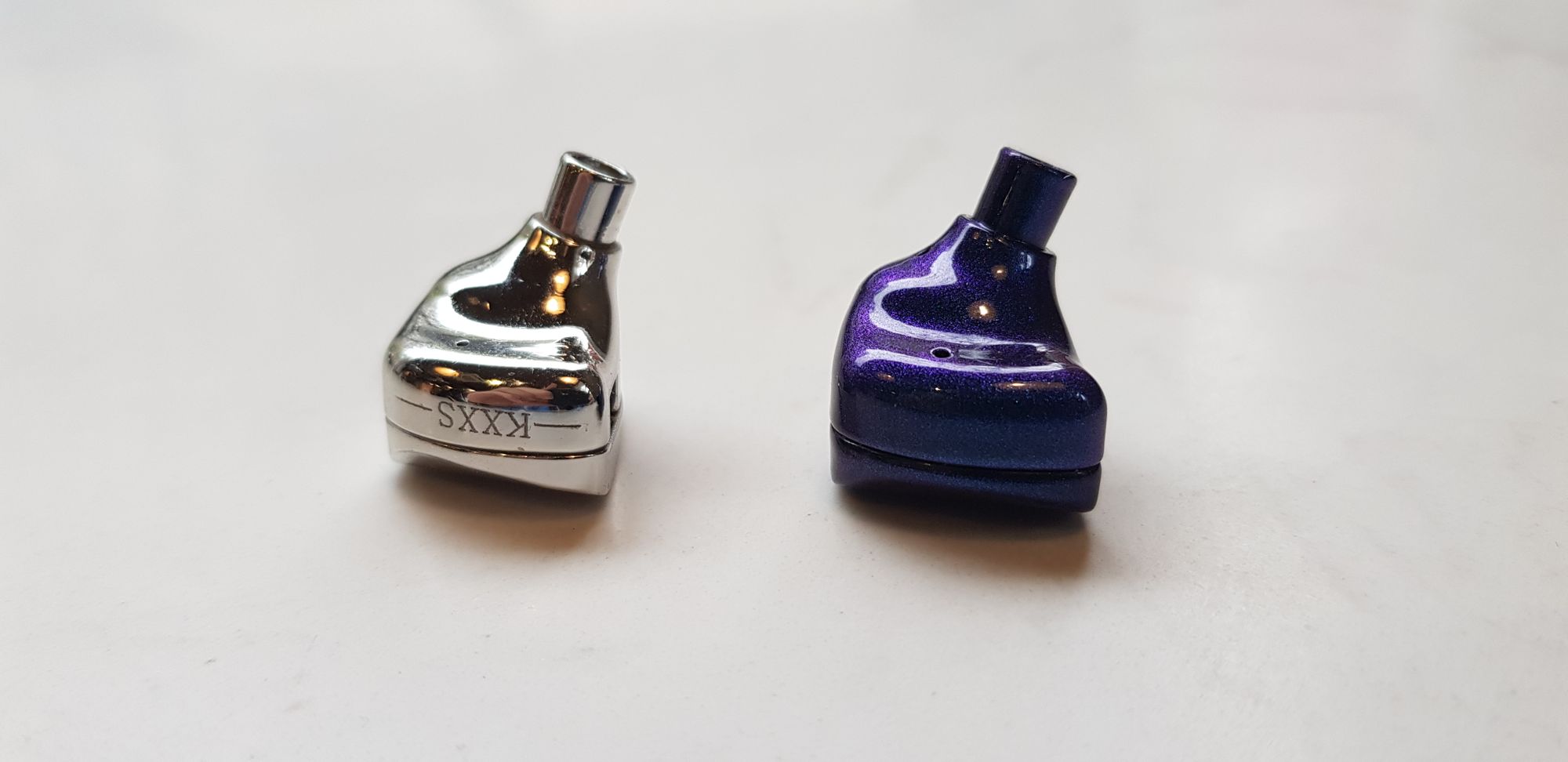 The Starfield features a metal diamond-like casing, which can be seen as almost identical to the KXXS, except that the Starfield has a blue paint coating (Which, depending on the light angle, can appear purple) and follows a "Space" theme. On the backplate, the left side has a star decoration which looks like a compass and the product name "Starfield" written on the right side. During my time listening to the Starfield, there have been some reports of the paint chipping away. So, it is my advice to keep the IEM in the case when not in use.
Fit wise, the IEM managed to seal well and stays comfortably in my ear for a long period but isolation seems to be a little below average. Still, this is not really a big problem and the Starfield can be used outdoors.
That being said, the Starfield seem to be one of the only few IEM in Moondrop's lineup that doesn't have a mascot but only a shadow on the box, as a weeb myself I cannot help but feeling a bit disapointed :'D
---
Sound: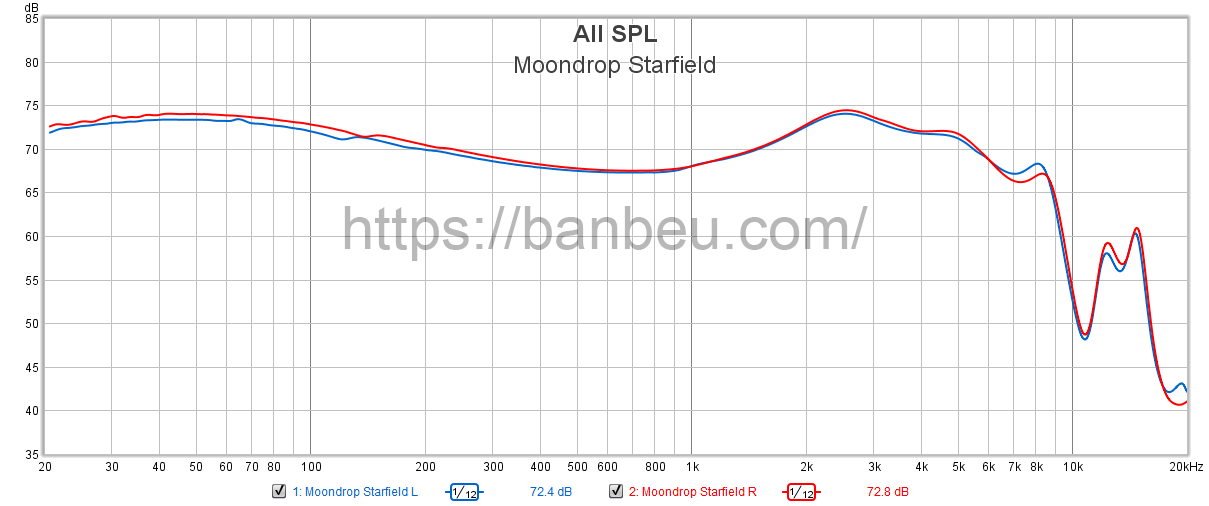 Measurements are done on a steel coupler with dynamic microphone, while the result seem to be close to an IEC-711 coupler, there is noticeable roll off in the bass region and frequencies higher than 2kHz is also expected to have 2 - 3dB roll off.
My measurements are also raw and uncompensated, hence flat in graph is not flat in real life.
Signature:
The Moondrop Starfield has a Harman tuning. But, giving Moondrop history records on tuning their IEM, Starfield follows their "traditional" house sound called Virtual Diffusion Sound Field (VDSF for short) which is the result of their interpretation of Diffuse Field than Harman. Hence, the Starfield signature can also generally be understood as neutral.
Subjective opinions:
One thing for sure with the Starfield for me is how safe its tuning is considering the price and also, it's not too safe to the point of being too boring either. The Starfield remains energetic to my ear with little sign of sibilant or bass bloat and its technicality is also decent in this price range too. And much to my expectation from a brand that uses "Japanese anime style" artworks for marketing, Japanese music plays well with the Starfield, whether it is the usual J-pop with anime female voice singing to electronic genres like Hi-tech, Speedcore, Hardcore... It also has a bit of warmth in the mid-range which is enough for me with male vocals.
That being said, while the Starfield's bass was able to provide a bit of rumble and also punchy, it doesn't dig deep enough so I wouldn't recommend this to bass lover. Cymbals, Hi-hats don't sparkle much on the Starfield and while instruments separation is somewhat decent, their positions seem to stay flat with each other in my head which gave me some struggles in genres like Orchestra.
Choice comparisons: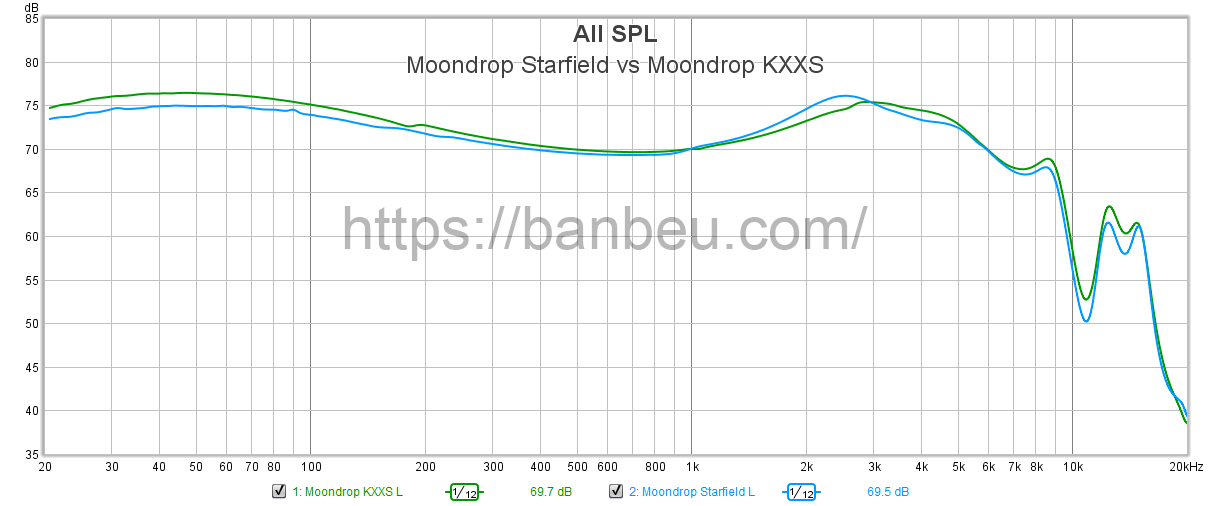 Ah yes! The Senpai vs the Kouhai, who would you choose?
The most obvious comparison with the Moondrop Starfield is the KXXS. On paper, the Starfield is almost identical to the KXXS, with both having the same measurement, the same 1 DD setup and the difference only in the driver design.
Personally, I have spent a lot of time A/Bing both of these together and has found that the KXXS is more shouty, treble has more sparkle while being less warm than Starfield. Were I got to choose between the Starfield and the KXXS, I would still choose the latter due to the above reasons.
That being said, when giving the price of these two? One has to ask: "Is the KXXS considered a worthy upgrade when I have the Starfield already?" to which I would answer: "No" - mainly because of how little the change in sound quality is.
In my opinion, if you buy the Starfield, you already have 95% of the KXXS performance already and it is also 80$ cheaper. Unless you really like Moondrop house sound and really prefer that minor "5%" change (and want to get that really cute mascot box too), I find no reason to buy the KXXS when the Starfield is around.
---
Conclusion:
While there is no doubt that the Moondrop Starfield is one of my personal favorite IEM and will be one of my solid recommendations for a while, I cannot help but feel a little bit weird. The Starfield initially was considered as a budget option for the KXXS yet to me, it destroys nearly every reason to buy the KXXS. Whatever the case, Starfield definitely has met my expectation and I would be looking forward to hearing other IEMs in their line up soon.