For some reason, IEMs released with names associated to the Norse mythology has been stringing up mids-2020. Kinera is one of the brands who follows this naming convention.

After my review of the Kinera TYR, it's not long after that the Freya was released. As a result, I was somewhat pimped on it due to design that it has.
Though, Would that gorgeous design goes along with the sound performance or not? Let's see how it goes
Before going into the post, if you are new, please read this before having any comments regarding my writing or point of view‌.
For Vietnamese viewers: Bài viết này có bản tiếng Việt tại đây
---
Information:
Drivers: 1DD + 3BA
Price: 250$
The Kinera Freya was kindly provided by HifiGo for this review
---
Build and Accessories: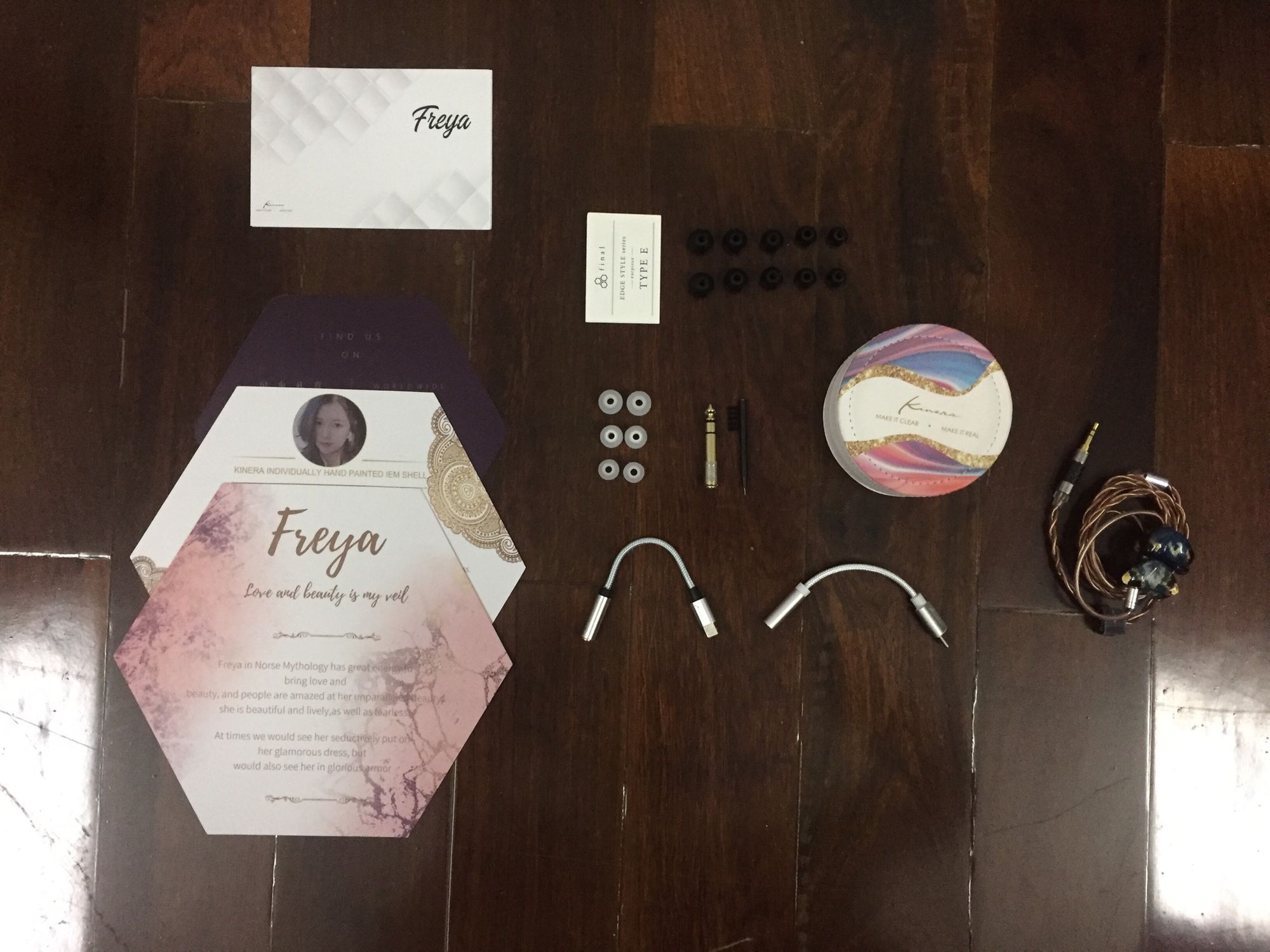 A full set of Final Type E Eartips
3 pairs of white silicon eartips (S/M/L)
USB-C to 3.5mm adapter
Lightning to 3.5mm adapter
3.5mm to 6.5mm adapter
Brush
Hard case
Unbalanced 3.5mm 2-pin 0.78mm cable
Yeah... this is way plentiful with an IEM priced at 250$. With all of the accessories that comes with the packaging, I think they have considered a lot of scenario for their potential customers.
Starting with the IEM case, you can already see Kinera has tried a lot into making the "theme" for this IEM. Though, with my Freya unit following being the "Armored" unit, I wished the case provided could have followed that theme too. Cosmetic aside, it is quite durable and smooth to touch while not to the point of being too hard to open like some metal cases out there.
The Freya's cable is also decent. It has a smooth texture and is quite durable after several tries of abuse (Though I am not recommending you to do that). Metal enclosure can be seen on the straight jack, the Y-splitter which has the brand name engraved into and the 2-pin connectors. The chin-slider is decent too if you are asking: not too slippery and not too steep either.
As stated with the introduction, one of the reason that I am intrigued by the Freya is because of its design. And for sure, you can see they had a lot of fun doing the cosmetic part of this IEM. It spots a "mythical" design with a pseudo-custom shells. A vent hole can be found on the top of each side of the IEM. On the back, the brand name is printed on left side and the letter "Freya" is printed on the others.
The Freya is quite light, the size of the shell is manageable for my ears so despite the tight sealed fit, I find it quite comfortable to wear.
---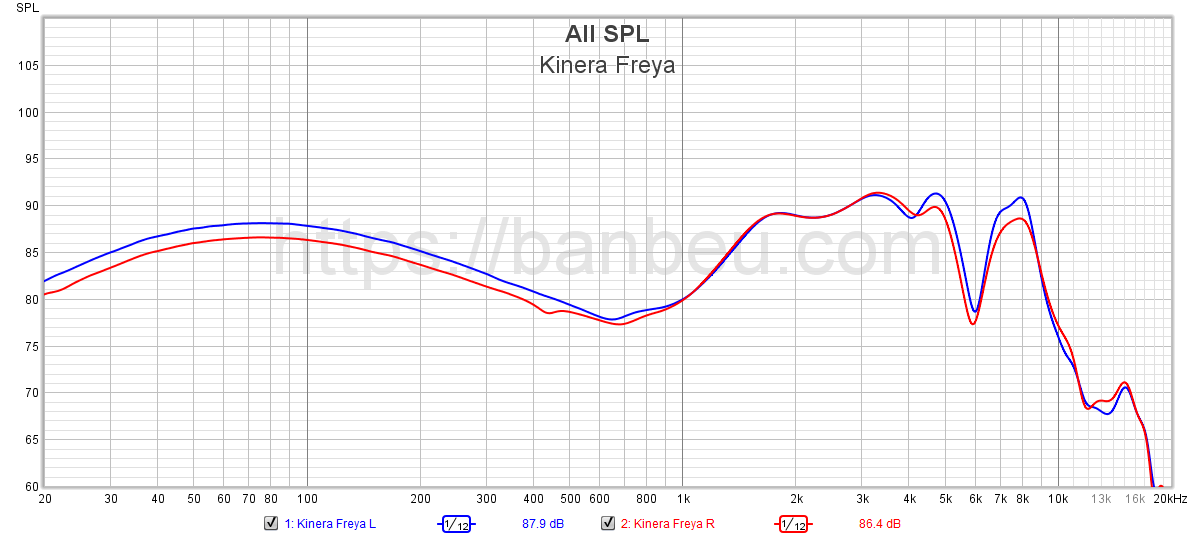 The Kinera Freya has a V-Shaped sound signature. Contrary to my impression of the Freya design, my overall experience with it has been somewhat mixed. It leans toward a unique presentation but not in a way that I would applaud for.
As much as I don't want to say it, my feeling with the Kinera Freya's bass initially is somewhat similar to... that of the Sony MDR-XB55AP. Yes, you heard me right: that Sony "Xtra" bass IEM that you audio nerds would never bat an eye on; it is boomy, significantly bleed into the mid-range, and lacking textures. Though as far as my time spending with the Freya goes, I don't think there is anything about the its bass being the "worst offender" in my book.
It's probably because I didn't find that bass being too overwhelming that I came to this conclusion. For people who are looking for a non-offensive type of bass, I can see them enjoying the Freya's bass more than I did, but you get my idea - it's simply not my type.
The midrange of the Freya as stated, got affected by the amount of bass bleed. Clarity first and foremost takes a hit but the IEM also tilts towards an excessively warm, full-bodied type of sound which is more noticeable with stringed instruments. Though, as someone who mainly listens to female vocal tracks, my fears have mainly been focused on the upper mid elevation of the Freya. It has an unusual pinna compensation which I feared could destroy my listening enjoyment on this IEM but turns out, it is not that bad as I imagined.
And it is not really impressive either, as I find myself unsatisfied with how nasally vocals are presented. But, this could have been worse without the lower-mid boost. This elevation might be the hero in the bush here, considering that it has balanced out the upper midrange, making vocal not as forward to the point of overwhelming as I thought it should be.
I am not sure how to feel with the Freya's midrange, to be frank. It has done well on some parts and at the same time, left me with a big question mark. If given a chance, I would like to see the upper midrange of the Freya being done in a nicer way to improve the vocal presentation. The 1.7kHz pinna raise is weird for me, not to mention how warm the IEM has to be to balance out that unusual tuning pattern.
With both the bass and midrange being a mixed bag. The treble on the Freya is a clear cut for me. It is tuned towards the muted side without any hint of airiness. Cymbal crash is soft, blunted, quickly losing its energy after hit though doesn't sound non-existents. In a sense, you can argue that it works because the Freya is going towards a "warm, pleasing" type of sound. But well, the Freya is excessively warm and non-fatiguing due to the bass/midrange already, the muted treble on this IEM just make me feels it is done in a way that is... underwhelming.
Technical wise, the Freya didn't show any impressive feat, in fact, I think it falls out a bit considering its price tag. Soundstage and imaging is average, there are also some senses of "plastickiness" in the midrange which might be due to the BA timbre coloration though it is not as bad as the ThieAudio Legacy 3 (or even the Etymotic ER4 if you want a pricier comparison). There are some hints of details for the ear-stretcher but isn't enough of a saving grace for this IEM's technical performance.
---
Conclusion:
While the Freya spot a beautiful design with a lot of items to back for its 250$ quality, sadly, it sound performance regarding the price also makes it hard for me to give a recommendation.
Still a neat IEM design wise nonetheless. At least, I can vouch for that
Recommendation ratings: Not recommended